Baskets are all we need in home to organize all the mess! May be you are using a lot of baskets to store the untidy collections of things in home but we are here with special winter baskets that will add mind-blowing cozy details to your interior environments! As everything gets changed in winters from normal to cozy like your way of dressing and your home decors then why not the storage options of your home! You can like and select any of these baskets for you home as free patterns for each of these baskets are waiting for you just below each of picture, provided as reference links!
These baskets would be ideal to store your washi tapes or duct tapes, yarn needles, your crochet hooks, yarn strands and your scissors! But you can use them in home for any particular storage purpose!
Crochet Rope Basket DIY Project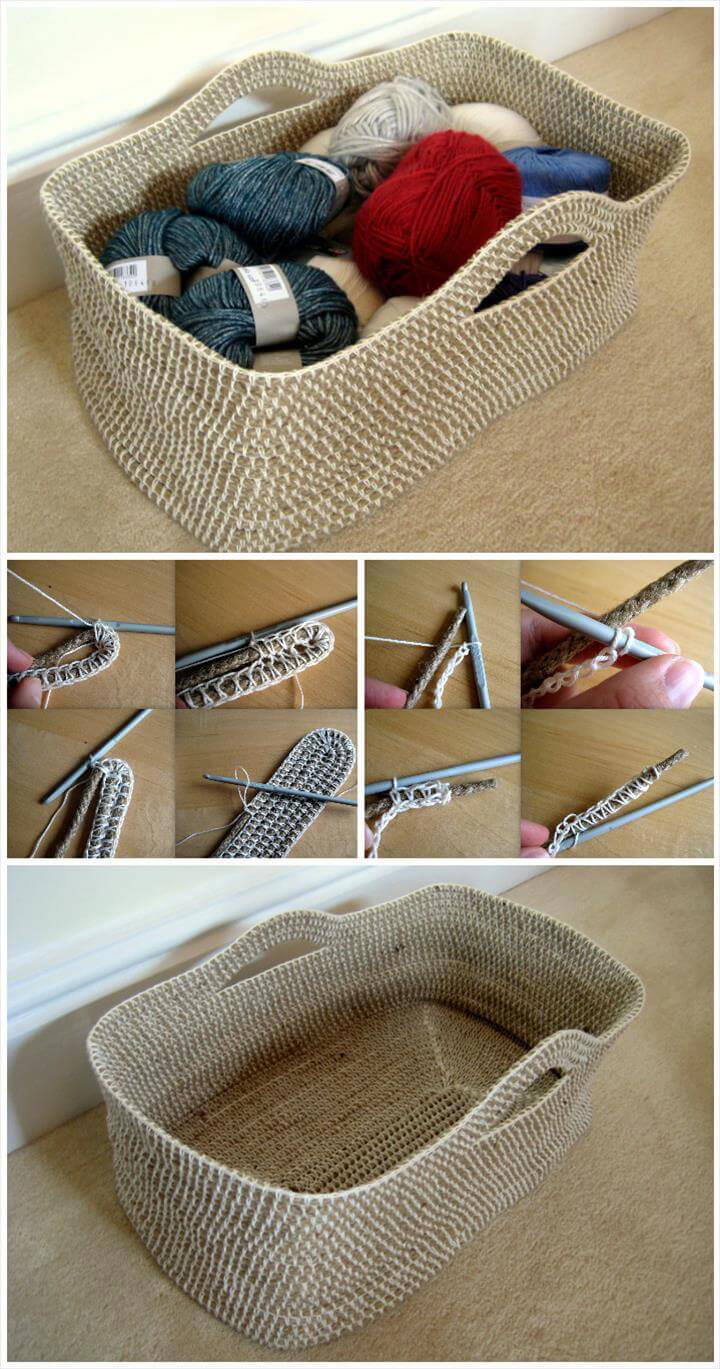 Do outstanding DIY project by mixing your crochet skill with your genius imaginations! This crochet and rope basket is great inspiration in this regard! Complete picture tutorial and free pattern for this basket is here makemydaycreative
Crochet Fox Basket
Store you washi tapes and crochet yarn strands in this round fox crochet basket! It will not less than a decorative piece in your home! Image Credit to skates-and-stitches  Free Pattern Credit to allfreecrochet.
Crochet Rectangular Diamond Trellis Basket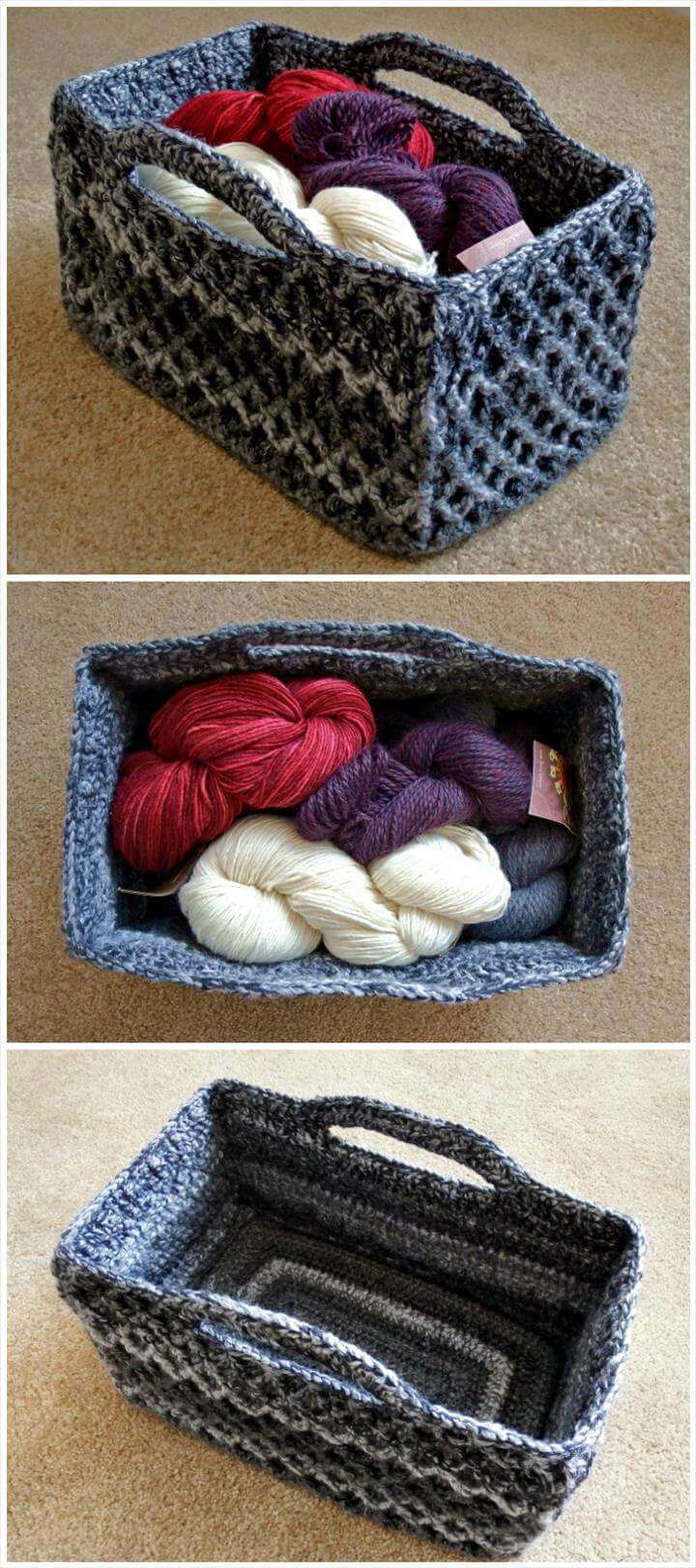 Another outstanding baskets to store you yarn supply, the special diamond trellis crochet basket! Comes with handles for easy carriage! Pattern for this special basket is here makemydaycreative
Crochet LOVE Heart Basket
If you are a lover by heart then this crochet basket is sure to win you heart! It comes in the perfect heart shape and also in red color the color of love! It would also be perfect to store you yarn supply and other tools like the scissors, crochet hooks and tailor tape! Complete picture tutorial and crochet pattern for this basket is here mypoppet
Chunky Crochet Basket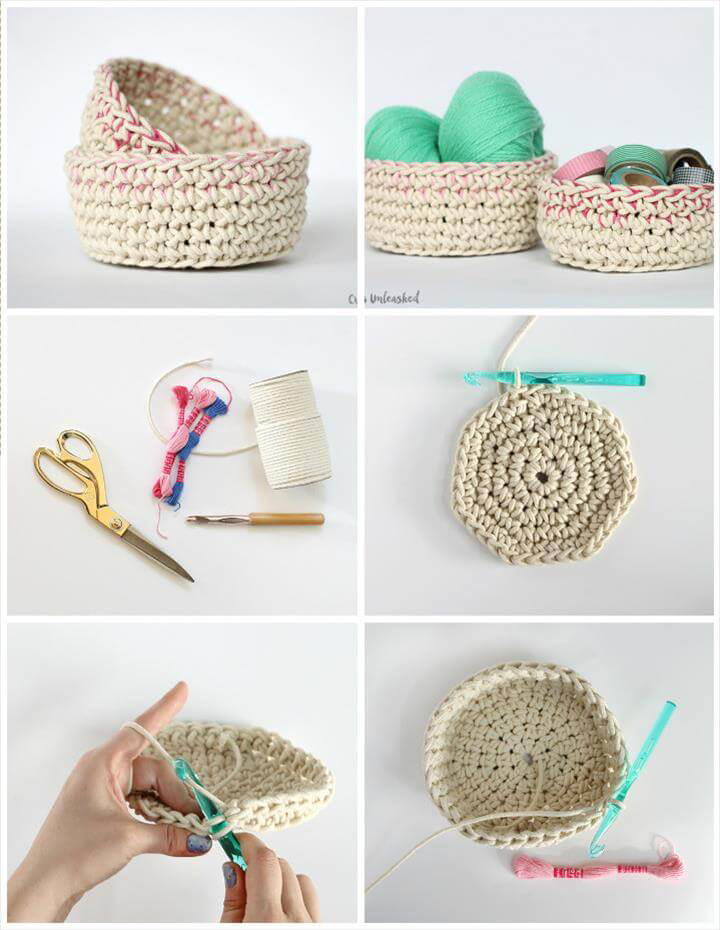 There are so many crochet baskets here to choose from and here is another great round one, crocheted to inspire! It would also be recommended to hold the yarn strands and duct tape supply! Picture tutorial and free pattern is here consumercrafts
Round Crochet Hanging Basket
This crochet basket is really out of ordinary, it is the special hanging crochet basket, crocheted to rock and amaze! Willing to get ti for your home? Here is the completely free crochet pattern for it dwellerinalittlehollow
Round Crochet Honeycomb Basket
You will love crocheting this honeycomb crochet basket, comes with the special crochet blisters for an eye-catching appeal! Would be perfect to hod those items you cherish a lot! Grab the free crochet pattern for this round basket from here makemydaycreative
Crochet Rainbow Nesting Baskets
Make this set of round rainbow baskets yours and store the home accessories in a style! You can crochet also the whole set to gift to your neighbor this winter! Full picture tutorial and free pattern here crafts.tutsplus
Fashion-Worthy Crochet Ombre Basket
Select this ombre crochet baskets for market visits and also as a shopping tote, would look lovely in hands of a style loving women while being on shopping! Full free Pattern for this ombre crochet baskets is here crochetincolor
Adorable Round Crochet Moroccan Basket
Another crochet basket inspiration, a special round Moroccan basket, is so soft to hold and would bring a cozy vibe to any space! Employ it to store the home items and accessories you use often in winters! Guide and free pattern for this hat is here  mooglyblog.