Over 30 free Halloween knitting patterns for you to make all things yarn, creepy and scarp.
That fun and spooky time of year is upon us once more – Halloween! You can decorate your home with tons of creative Halloween knitting patterns. Let's begin!
FREE HALLOWEEN TREAT BAG KNITTING PATTERNS:
You need something to hold your treats when you or your kids, grandkids go trick or treating so why not get out some yarn and make one of these cute treat bags with these free Halloween knitting patterns
1. Trio of Treats Bag
Spiders and Candy Corn and Monsters, oh my! These knit treat bags are a hauntingly cute way to present Halloween treats to your favorite little ones (or big ones).
2. Halloween boo bag

Go trick or treating this Halloween with this awesome Boo Bag from Bernat.
3. Pumpkin Favour Bag

Designed by Stitch Geek. A mini "pumpkin-in-basket" bag for filling with little autumnal treats! This pattern combines both knitting and crochet to give a unique look to the project.
CREEPY, BUT CUTE HALLOWEEN TOYS TO KNIT:
Free knitting patterns for witches, spiders, zombies, rats, spiders and more awesome creatures to decorate your home with!
1. The Little Vampire
Designed by justjen-knitsandstitches; "The Little Vampire" is only 11.5cm tall, and is knitted in DK/8ply yarn. He is only little, but still cute and creepy!
2. Little witch girl and her cat
This is the pattern to make a little girl and her cat. The girl is about 8cm tall with her tiny cat, 2cm tall.
3. The Little Zombie

Designed by justjen-knitsandstitches; "The Little Zombie" measures only 11.5cm tall and is knitted in DK/8ply yarn.
4. Rat Free Easy Toy Knit Pattern

Rats are a Halloween must-have for anybody planning the spookiest haunted house in the neighborhood.
5. Boo! Ghost Knitting Pattern
Ultra cute little ghost amigurumi to knit designed by Knitted Toy Box!
6. The Bewitching Ms. Witch
Cute little witch doll to make by just saying …
7. Little Witch Halloween Knit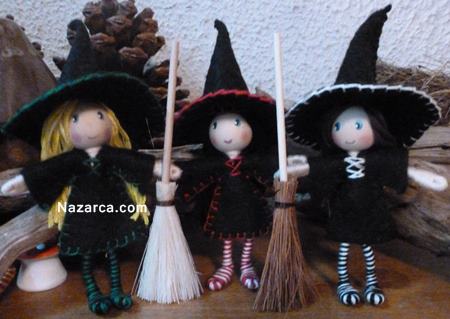 Want to knit up a fun little witch to spice up your Halloween decorations? She'll take you two hours to knit, three tops.
8. Knit Spider

Cute spider amigurumi to make for Halloween.
9. Spider and his web

Very quick and cute spider and his web pattern to knit for Halloween.
10. Knitted Eyeballs

These eyeballs are knitted in the round from the bottom to the top. The pattern offers three sizes of eyeballs. Display various sizes and colors in a glass jar on a mantel for a great conversations starter.
11. Halloween Ghost Knitting Pattern

Very cute bell shaped ghost knitting pattern to make by Natural Suburbia.
12. Halloween Ghosties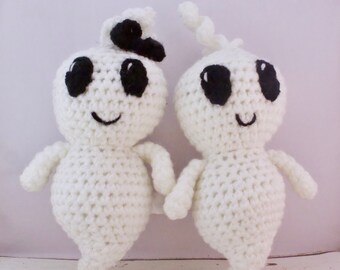 This quintet of cute characters couldn't be quicker or easier to make from scraps of yarn and stuffing. They are knitted in garter stitch (no increases or decreases) and with one nifty stitch they stand up by themselves, like magic!
FREE HALLOWEEN DISHCLOTH KNITTING PATTERNS
Decorate your kitchen with cute Halloween themed dishcloths!
1. Lacy Jack-O-Lantern Dishcloth

Knit up this quick, simple and cute lace pumpkin motif dishcloth for this Halloween!
2. Ghosty Dish Scrubber
Knit a friendly ghost for bath time or to help wash the dishes. Since Scrubby is polyester, you can wash it by machine and it dries quickly between uses.
3. Bug Infested Bowl

These creepy-crawlies are too cute to smush! Adorn your Halloween candy bowl with these easy-to-knit critters and wait for the smiles.

4. Halloween Garland Free Knitting Pattern

Decorate your home this Halloween with orange and black bunting/garland free knitting pattern.
5. Halloween Wreath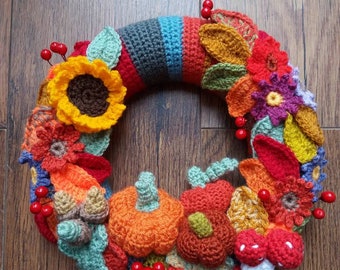 Extend a warm welcome to your guests or trick-or-treaters this Halloween with this lovely knitted Wreath Pattern.

FREE HALLOWEEN PUMPKIN KNITTING PATTER
1. Halloween Pumpkin Knitting Pattern
Designed by Craftbits a sweet and cute little pumpkin knit pattern.

2. Halloween Pumpkin Knit
Another cute little pumpkin free pattern to make!
3. Pumpkins and a Pattern
Stunning small Halloween pumpkins to knit designed by Bobbi Lewin.
4. Halloween Pumpkin by Graeme Knowles-Miller

More cute pumpkins to make for Halloween, these ones are chunky!
5. The Patch Halloween Pumpkin Pattern

Cute pumpkins to knit up for Halloween.
6. Pumpkinstein

Free knit pattern for a cute Frankenstein pumpkin from YarnPaint!