Are you just crazy about Fall and Halloween?  Of course you are!  Then you'll want to start your sewing right now and create some of these amazing home decor ideas for Halloween displays.
Use some of these Halloween decor ideas for your mantle display, entry table, dinner table, place settings and for party decor.  Go all out this year and buy a nice big bundle of Halloween fabrics and create a matching set.  You'll be able to bring these projects out year after year.  Let's face it, Halloween isn't going out of style, or changing it's colors any time soon.
1. Halloween placemats
Made from scraps left over from other projects, or in this case a Halloween Jelly Roll, these reversible placemats have a scrappy quilt as you go front panel and a spooky silhouette on the reverse.
2. Bargello Style Table Runner
Made in similar fabrics to the placemats above, this Bargello style quilted table runner has a spooky spiders web quilted design and again can be reversible.  Two projects for the price of one.  Another great scraps or jelly roll project.
3. Sophisticated Pumpkin Tablecloth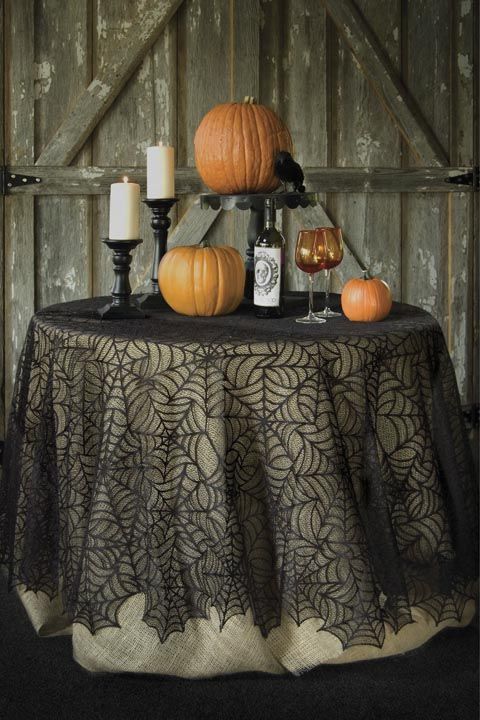 If the bright colors of Halloween aren't your style, and you are looking for something rather more understated, then this black on cream option might fit the bill.  Black pumpkin silhouettes on a creamy white tablecloth bring an elegant touch to a Halloween table.  Fusible web makes the pieces easy to cut and the top stitching gives a classy definition to the shapes.
4. Mrs Bindweeds Boots
Mrs. Bindweed's Boots is a whimsical two-sided table runner that has everyone smiling. The simple step-by-step instructions make it simple for all levels of sewers.
5. Pumpkin Patch Table Topper
Got some scraps in fall colors?  Then this scrappy pumpkin block could be the perfect way to use them.  Quilt it into a pretty table topper and this project can last you all through Fall, Halloween and even into Thanksgiving.
6. Criss Cross Coasters
  This is an ingenious idea and so easy to sew.    Another project ideal to use up any small pieces you have left over from some of the others to make these mix and match Halloween coasters.  Take a look at how these have been sewn with some Halloween ribbon and wouldn't they make a fun hostess gift too.
7. Halloween Quilted Table Topper
A quilted Halloween table topper had been on my "wish list" of projects to make for a couple of years now. This year I thought I'd tackle it. I try to add one sewn item to my Halloween decorations every year, this table topper can now join my Halloween Quilt and Ghastly Pillows in my box of quilted decor.
8. Candy Corn Mug Rug
A traditional symbol of Halloween in the USA, the candy corn.  If you are looking for a quick project to add a little seasonal flavor to your desk while you work or sew, this candy corn mug rug could be just what you need. It's funny, as I was putting together my article, my housemate came in and was delighted he had just found some candy corn here in Cayman!
9. Spider web table runner
If you don't have much time to spare, need something for tonight, or perhaps are new to sewing, then this table runner may surprise you with how easy it is and how little sewing is needed to create this sparkly spider web effect.  I could also see this working well with other methods such a glitter glue, or fabric paint.
How do you celebrate Halloween?  Are you running riot in the streets dressed as Zombies and witches or hiding behind the sofa with the lights out pretending you aren't in when the trick and treaters come to call? Does your family have any particular Halloween traditions?
Check out some of these other Halloween sewing ideas and you'll never be stuck for inspiration.